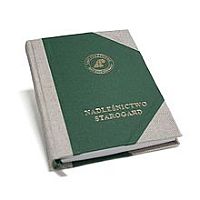 We offer all sorts of bindery services, as binding books, documents and magazines.
If necessary, we do restoration of damaged cards by trained, professional staff (vide: Special books restoration & bindery)
We offer a full range of materials, from canvas materials (calico) or linen for extreme durability, through the typical leather-like material (Balacron, Baladek) as well as exclusive, decorative & flocked materials. On request we also use genuine leather.
Book bindery – detailed informations
Book block is stitched manually using special strong threads and bands. Before bindery – if necessary, individual pages are demolded, as well as glued and reinforced. Glue used to pages contain bactericide and fungicide.
Specially for extreme durability, we specially developed additional strengthening of the spine to prevent its rupture, which allows book removal from even tight set of rows on the shelves.
Spine break is a common damage of the cover made by other bindery companies;
We also offer our services in binding:
official gazettes,
magazines,
and other periodicals